Father/son team, Don and Jason Jonas will provide you with an amazing day at sea!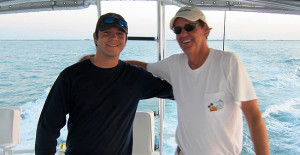 Key West Charter Fishing – Deep Sea Tournament Fishing
High Stakes Charters offers deep sea fishing in Key West, Florida. Enjoying the magnificant waters off the Keys while catching fish is the perfect vacation! Key West offers incredible fishing grounds just a few miles offshore.
High Stakes Charters offers a variety of options for your stay in the Florida Keys. Whether you are looking for a day of fishing with your friends and family or a relaxing sunset cruise in Key West, High Stakes will make your trip memorable.
Captain Jonas is a well experienced captain and has fished off the waters of the Florida Keys for many years. He is trained, licensed and his talents are called upon daily. Learn more here.
Make High Stakes Charters your number one priority if you want to catch fish in the deep waters off Key West…
Deep Sea Fishing!!

A fantastic adventure ! Jason& Don made this a trip of a life time. One I'll never forget. Fishing was great the boat beautiful. !!! This is a must do trip! Thank you Jason & Don again .
Great Time!

Fantastic day of fishing in a bit of choppy water. Would return without hesitating. Jason and Don are the hardest working crew I have ever fished with. And, follow their advice and have the fish cooked for you at Hogfish Bar and Grill! Great fried, blackened and grilled fresh fish! Thanks, guys!
Awesome Deep Sea Fishing Trip!!!

Thank you so much Jason and Don!! Our day started with me feeling very anxious, I had gotten sea sick during my last deep sea fishing trip (with another charter). Captain Jason and Don were so understanding and reassuring.
The Fishing Trip of a Lifetime

High Stakes Charters came highly recommended by friends of ours who discovered them while vacationing in Key West a year ago. So when we planned a family trip to Key West for January 2014, booking a fishing trip with High Stakes Charters was the first thing we did. And let me just say, Captains Jason and Don Jonas did not disappoint. Between the two of them, I'm pretty sure they know everything there is to know about fishing.